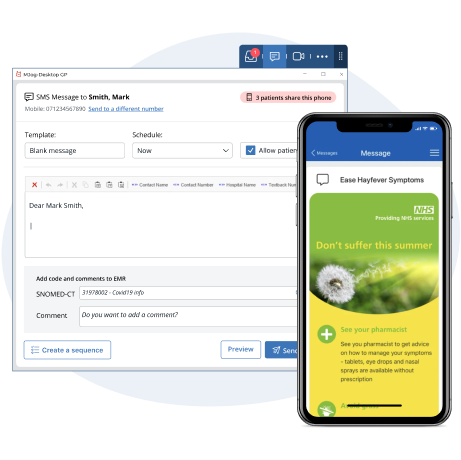 Book a demo
Book a demo of any of the MJog products and discover how they can benefit you and your practice. Our experienced Sales Team will showcase how our products help practices engage with more patients.
Batch Messaging
We'll show you how our trusted batch messaging solution can easily process thousands of patients and deliver timely and effective communications.
Appointment Reminders
For over a decade MJog has been trusted to deliver hundreds of millions of appointment reminders. Our effective reminders reduce DNAs by over 50%, saving you time and money.
Smart Messaging
Send more engaging interactive 'WhatsApp' style messages to patients using our intuitive Smart Messaging system.
Desktop GP
Discover our clinician toolbar, that brings powerful individual messaging and video capabilities to EMIS and Systm0ne.